Product Description
Prf80-L2 China Advance Marine Planetary Transmission Gearbox For Sale
The main transmission structure of planetary reducer is planetary gear, sun gear, internal gear ring and planetary carrier. Planetary gear reducer has the advantages of small volume, high transmission efficiency, wide deceleration range and high precision. It is widely used in the transmission system of servo motor, stepping motor, DC motor and other motors. Its function is to reduce speed, increase torque, reduce load and motor moment of inertia ratio on the premise of ensuring precision transmission.
Product Parameters
1.Square flange output,standard size;
2.The input connection specifications are competeand there are many choices;
3.Straight transmission,single cantilever structure,design simple,high cost performance;
4.Stable operation,low noise;
5.Keyway can be opened in the force shaft;
6.Size range:40-160mm;
7.Ratio range:3-100;
8.Precision range:8-16arcmin
Specifications
PRF40
PRF60
PRF80
PRF90
PRF120
PRF160
Technal Parameters
Max. Torque
Nm
1.5times rated torque
Emergency Stop Torque
Nm
2.5times rated torque
Max. Radial Load
N
185
240
400
450
1240
2250
Max. Axial Load
N
150
220
420
430
1000
1500
Torsional Rigidity
Nm/arcmin
0.7
1.8
4.7
4.85
11
35
Max.Input Speed
rpm
8000
8000
6000
6000
6000
4000
Rated Input Speed
rpm
4500
4000
3500
3500
3500
3000
Noise
dB
≤55
≤58
≤60
≤60
≤65
≤70
Average Life Time
h
20000
Efficiency Of Full Load
%
L1≥96%       L2≥94%
Return Backlash
P1
L1
arcmin
≤8
≤8
≤8
≤8
≤8
≤8
L2
arcmin
≤12
≤12
≤12
≤12
≤12
≤12
P2
L1
arcmin
≤16
≤16
≤16
≤16
≤16
≤16
L2
arcmin
≤20
≤20
≤20
≤20
≤20
≤20
Moment Of Inertia Table
L1
3
Kg*cm2
0.1
0.46
0.77
1.73
12.78
36.72
4
Kg*cm2
0.1
0.46
0.77
1.73
12.78
36.72
5
Kg*cm2
0.1
0.46
0.77
1.73
12.78
36.72
7
Kg*cm2
0.06
0.41
0.65
1.42
11.38
34.02
10
Kg*cm2
0.06
0.41
0.65
1.42
11.38
34.02
L2
12
Kg*cm2
0.08
0.44
0.72
1.49
12.18
34.24
15
Kg*cm2
0.08
0.44
0.72
1.49
12.18
34.24
16
Kg*cm2
0.08
0.44
0.72
1.49
12.18
34.24
20
Kg*cm2
0.08
0.44
0.72
1.49
12.18
34.24
25
Kg*cm2
0.08
0.44
0.72
1.49
12.18
34.24
28
Kg*cm2
0.08
0.44
0.72
1.49
12.18
34.24
30
Kg*cm2
0.08
0.44
0.72
1.49
12.18
34.24
35
Kg*cm2
0.08
0.44
0.72
1.49
12.18
34.24
40
Kg*cm2
0.08
0.44
0.72
1.49
12.18
34.24
50
Kg*cm2
0.05
0.34
0.58
1.25
11.48
34.02
70
Kg*cm2
0.05
0.34
0.58
1.25
11.48
34.02
100
Kg*cm2
0.05
0.34
0.58
1.25
11.48
34.02
Technical Parameter
Level
Ratio
 
PRF40
PRF60
PRF80
PRF90
PRF120
PRF160
Rated Torque
L1
3
Nm
/
27
50
96
161
384
4
Nm
16
40
90
122
210
423
5
Nm
15
40
90
122
210
423
7
Nm
12
34
48
95
170
358
10
Nm
10
16
22
56
86
210
L2
12
Nm
/
27
50
95
161
364
15
Nm
/
27
50
96
161
364
16
Nm
16
40
90
122
210
423
20
Nm
15
40
90
122
210
423
25
Nm
16
40
90
122
210
423
28
Nm
16
40
90
122
210
423
30
Nm
/
27
50
96
161
364
35
Nm
12
40
90
122
210
423
40
Nm
16
40
90
122
210
423
50
Nm
15
40
90
122
210
423
70
Nm
12
34
48
95
170
358
100
Nm
10
16
22
96
80
210
Degree Of Protection
 
IP65
Operation Temprature
ºC
 – 10ºC to -90ºC
Weight
L1
kg
0.43
0.98
2.3
3.12
7.08
15.5
L2
kg
0.65
1.26
2.97
3.82
8.7
17
Company Profile
Packaging & Shipping
1. Lead time: 7-10 working days as usual, 20 working days in busy season, it will be based on the detailed order quantity;
2. Delivery: DHL/ UPS/ FEDEX/ EMS/ TNT
Patented reducer, German technology planetary reducer. 
OEM, ODM.  We can offer planetary reducer, gear, pulley and other products.
Contact person: Sunny
FAQ
1. who are we?
Hefa Group is based in ZheJiang , China, start from 1998,has a 3 subsidiaries in total.The Main Products is planetary gearbox,timing belt pulley, helical gear,spur gear,gear rack,gear ring,chain wheel,hollow rotating platform,module,etc
2. how can we guarantee quality?
Always a pre-production sample before mass production;
Always final Inspection before shipment;
3. how to choose the suitable planetary gearbox?
First of all,we need you to be able to provide relevant parameters.If you have a motor drawing,it will let us recommend a suitable gearbox for you faster.If not,we hope you can provide the following motor parameters:output speed,output torque,voltage,current,ip,noise,operating conditions,motor size and power,etc
4. why should you buy from us not from other suppliers?
We are 22 years experiences manufacturer on making the gears, specializing in manufacturing all kinds of spur/bevel/helical gear, grinding gear, gear shaft, timing pulley, rack, planetary gear reducer, timing belt and such transmission gear parts
5. what services can we provide?
Accepted Delivery Terms: Fedex,DHL,UPS;
Accepted Payment Currency:USD,EUR,HKD,GBP,CNY;
Accepted Payment Type: T/T,L/C,PayPal,Western Union;
Language Spoken:English,Chinese,Japanese
| | |
| --- | --- |
| Application: | Motor, Electric Cars, Motorcycle, Machinery, Marine, Agricultural Machinery, Car, Automation Equipment |
| Hardness: | Hardened Tooth Surface |
| Installation: | Vertical Type |
| Layout: | Coaxial |
| Gear Shape: | Cylindrical Gear |
| Step: | Double-Step |
Samples:

US$ 120/Piece

1 Piece(Min.Order)

|
Request Sample
Customization:

Available

|

Customized Request

Benefits of a Planetary Gearbox With Output Shaft
The output shaft of a Planetary Gearbox connects to the driven wheels, while the input shaft comes from the engine. These gears are interlinked and create a wide range of gear reductions, which are necessary to get a vehicle rolling comfortably. Gear reductions are the place where the various "gears" are located. Here are some examples. They can help you determine what you need for your vehicle. You might also want to learn about planetary gears.
Planetary gearboxes
Modern cars are most likely equipped with planetary gearboxes. If you're unsure if your vehicle uses planetary gears, you should first consult your car's owner's manual. If not, contact your dealership's service department for more information. Otherwise, you can do a quick search on the internet to find out whether your car has a planetary gearbox. These gearboxes are generally more complex than ordinary gears. Additionally, they are equipped with more parts and require lubrication.
In addition to their low noise levels, planetary gearboxes are also remarkably efficient at transmission. These features make them ideal for applications requiring high torque and small footprints. Unfortunately, there are many different types of planetary gearboxes on the market, making it difficult to find the right one. The following article will give you some guidelines to help you choose the right planetary gearbox for your needs. Let's take a look!
Planetary gears
A planetary gearbox has two main components: the sun gear (also known as the central or input) and the planet gears (also known as outer or peripheral). These gears are connected together by a carrier to the output shaft of the machine. In some applications, it is necessary to use a planetary gearbox with lubrication to prevent wear and tear. A planetary gearbox also has a small ring gear that helps hold the planet gears together.
The main advantage of a planetary gearbox is that it uses several teeth that engage at once, allowing for high-speed reduction with a small number of gears. Because the gears are relatively small, they have lower inertia than their larger counterparts. Planetary gearboxes are compact, which makes them popular for space-constrained applications. Because of their compact size and efficiency, planetary gearboxes are also commonly used in motor vehicles.
Planetary gearboxes with output shaft
For high-speed, dynamic applications, planetary gearbox units with output shaft provide the optimal solution. Thanks to their low inertia, these gearheads deliver superior performance in many industrial applications. Additionally, their wide range of variants allows users to select the perfect product for their application. This article examines some of the key benefits of planetary gearboxes with output shaft. Read on to learn more.
The planetary gearbox has two major components: a sun gear and planet gears. The sun gear is usually the input gear, while the planet gears are located at the outer edges of the system casing. Planet gears are held together by a carrier that is connected to the output shaft. Before choosing a particular gearbox for your application, make sure that you check the specific requirements and the environment to which the unit will be subjected.
A planetary gearbox has less stages of gears, and thus lower backlash compared to spur gearboxes. Backlash is lost motion that occurs when the teeth of the gears are out of perfect alignment. This problem is common in all gears, but is significantly less in planetary gearboxes. As such, planetary gearboxes are more efficient. They can also be customized according to the specific engine model and motor flange.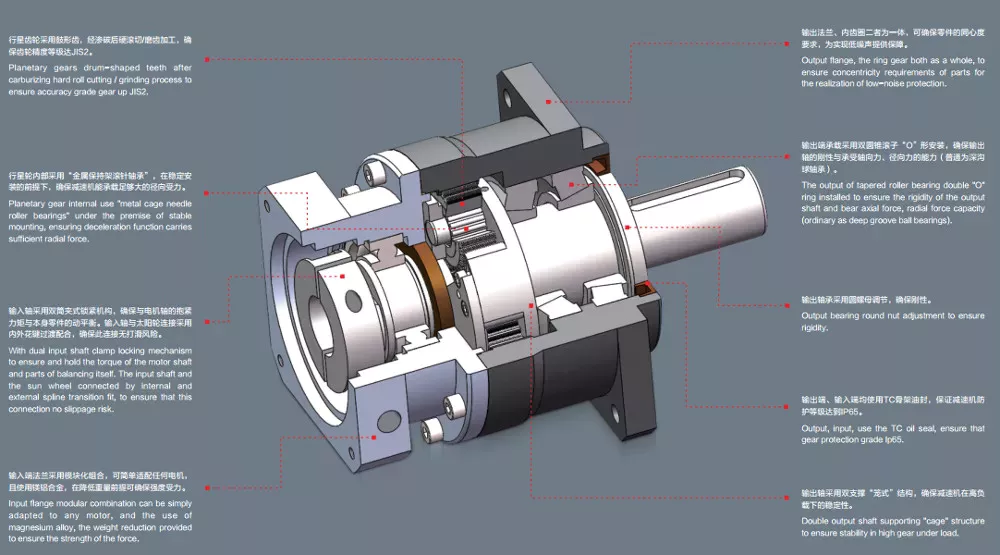 Planetary gearboxes with carrier
A planetary gearbox is a type of gearbox with three or more stages. They have a sun gear, which is usually the input gear, and planet gears, also called the outer gears. The carrier that connects the planet gears to the output shaft is called a ring gear. A planetary gearbox is generally designed to meet specific application and environmental requirements, but there are some factors to consider when choosing one.
The compact footprint of planetary gear sets results in high heat dissipation. This can be a problem in applications with sustained performance or high speeds. As a result, planetary gear sets often include lubricants, which present a cooling effect while also reducing noise and vibration. Some planetary gears even feature a carrier to make the installation process easier. Here are some things to keep in mind when choosing a planetary gear set.
Planetary gearboxes with carrier have several advantages over other types of gearboxes. Unlike conventional gearboxes, planetary gears have a common central shaft, and the tangential forces between the gears cancel out at the center of the ring gear. Because of this, planetary gearboxes are commonly used in input/output applications, and their compact size allows for a wide range of gear reductions. These gears can also produce higher torque density.
Planetary gearboxes with traction
Planetary gears are similar to the planetary system, in that each pinion rotates around a sun gear. The output of the planetary gear unit is lower than the drive rotation speed, but the torque is higher. As the number of planet gear wheels increases, so does the torque. Planetary gear systems contain three to four planet gears, and each is in constant mesh with the others. Power applied to any one member rotates the entire assembly.
Typical applications for planetary gear sets include high-precision motion control. In these applications, high torque, torsional stiffness, and low backlash are required. Planetary gear sets are also ideal for motors with higher speeds. A number of factors contribute to the reliability of these devices. The low backlash and large torque capacity of a planetary gear motor allow them to be used in a wide range of applications.
Planetary gearboxes with electric motors
If you're in the market for a new gearbox, you may have already heard about planetary gearboxes. The planetary gearbox is a high-efficiency, low-noise gearbox. CZPT manufactures high-torque planetary gearboxes with low backlash. They also make economy planetary gearboxes for lower loads. However, with so many different types available, choosing the right one for your needs can be challenging.
These planetary gearboxes are a compact alternative to conventional pinion-and-gear reducers. They offer high-speed reduction and high torque transfer, and are often used for space-constrained applications. But before you can understand how they work, you'll need to understand a little about their construction. There are a few things to look for that you may not have noticed before.
The most common type of planetary gearbox is a PM81/LN. It features a set of DC brush motors with diameter 77mm, a stator, and two or more outer gears. Each of these gears is connected to an output shaft through a carrier. They can also be used with brakes, encoders, or a clutch. A planetary gearbox is one of the most reliable gearbox types on the market.
Planetary gearboxes with hydraulic motors
A planetary gearbox is a combination of two gears, the sun and the planets. The sun gear rotates at high speed, while the planets roll around and orbit around the ring gear. The output shaft has the same direction of rotation as the input shaft. The benefits of a planetary gearbox include high reduction ratios, efficiency, space-saving compactness, and higher overload capacity. These gears are also more stable and compact, and they do not suffer from self-locking properties.
Planetary gearboxes are a highly efficient way to power hydraulic lifts. They can be input via electric, hydraulic, or air motors. The drive arrangement can be mounted on a bare shaft, splined shaft, or a parallel keyed input shaft. Depending on the application, bespoke gearboxes can be manufactured with a variety of features and functions.


Planetary gearboxes with combustion engines
There are many different applications of planetary gear sets. The most common is the distribution of power between two wheels in a car's drive axle. Four-wheel drives use two axle differentials, which are further augmented by a centre differential. Hybrid electric vehicles use summation gearboxes to distribute power from the combustion engine to the wheels and to an electric motor. Planetary gear sets also combine the two different types of motors to form one hybrid vehicle.
To understand how planetary gear sets work, it is important to understand the underlying mechanical principles. For example, Fig. 4.6 shows a stick diagram illustrating two planetary gear sets connected by a lever. The two levers are the same length, so the system is analogous to a single lever. When calculating the torque, it is essential to consider the lever diagram. Similarly, if two gear sets are connected by vertical links, the horizontal links must be horizontal.



editor by CX 2023-05-24